---
IF
you are wondering how 
you are going to approach the Forex Market and find your way to make a share of the trillion dollar a day market that forex is, The PipGenius EA is a fantastic tool that may help you with just that. PipGenius EA is a dashboard that helps you to trade with confidence in your decisions if you use it manually, and a great Autotrader if you want it to do it all automatically.
PipGenius scans different pairs and  is looking for the best setups all the time. Gone is all the searching and opening of x number of windows to find setups, just press the button with the desired pair and it takes you there. Either if you are a beginner or an advanced trader PipGenius helps you to the next level.
Here
you see an account we started to show you how PipGenius EA  trades. This is running on full Auto. Click in the graph to see more details.
---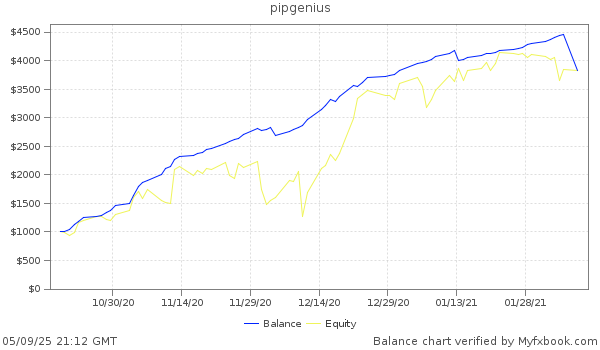 And the fantastic part of it...  you can try all this for free – Just enter your details below and you can install a full version of PipGenius to use for 7 days.  No need to wait, go try it now.
---
There
are never any guaranties but there are no such feeling when the balance curve is pointing up after a trading day. Try it for your self - maybe you will find out soon enough! 7 days free test, then $28 /Month
Well...! Are you Subscribe and get started!
Subscribe here and get your 7 days FREE test